The UE Research and Education Fund supports a variety of programs to build new skills among diverse worker leaders, helping them fight for economic and racial equality, for a just transition for workers, and to unite working people across borders.
Our Green Locomotive Project is bringing together workers who build locomotives, rail yard workers, and rail yard communities to win good union jobs, address climate change, and clean up pollution in the low-income communities and communities of color near rail yards.

Our Worker-to-Worker Exchange program, which brings rank and file union members together with their counterparts in other countries, is planning our first in-person exchange since the COVID-19 pandemic.

Our Southern Worker Justice program is supporting municipal workers in Virginia and North Carolina as they struggle against the economic legacy of Jim Crow.

The Emergency Workplace Organizing Committee, formed during the pandemic, is continuing to support workers in knowing their rights and taking collective action to address issues in their workplaces.
We hope you'll support us in this important work.
Pursuing good jobs for workers impacted by our changing climate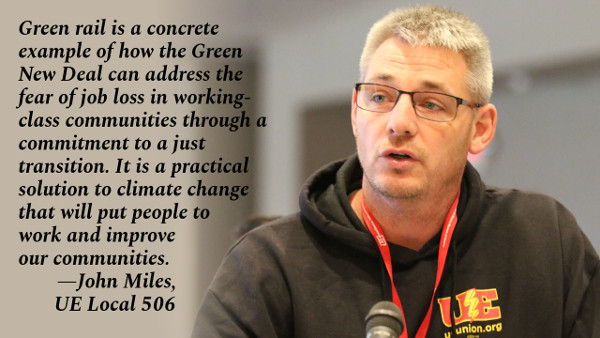 UE members in Western Pennsylvania have been working with community environmental activists in rail yard communities to develop the Green Locomotive Project, which seeks to clean up the pollution in rail transit corridors through investment in cleaner locomotive engines built by union labor. This program provides a practical example of what a just transition should look like for these workers whose jobs are currently tied to fossil fuels.
The Green Locomotive Project was featured in a March 2023 article in The American Prospect, "The Filthy Emissions of Railroad Locomotives—and the Rail Unions Sounding the Alarm."
Continuing our commitment to international worker solidarity
During the pandemic, UEREF continued our historic commitment to building worker-to-worker ties across borders using video meetings. In 2021, UE members met with workers across Canada, Mexico and other parts of the U.S. as part of the North American Solidarity Project's Worker Power Online Exchange series, and also held video meetings with unions in Japan, Quebec, and Italy. With travel restrictions now lifted, UEREF is planning an in-person delegation to Mexico in the fall of 2023.
UEREF also assisted with the publication of International Solidarity in Action, a 2022 e-book that tells the story of the partnership between UE and the Mexican Frente Auténtico del Trabajo (FAT).
Tackling economic and racial inequality in North Carolina and Virginia
Our Southern Worker Justice program has been helping workers in the Tidewater area of Virginia to understand their new rights at work after a partial repeal of Virginia's Jim Crow-era ban on collective bargaining for public-sector workers, empowering new leaders to speak out about their working conditions. In 2022, city workers in Virginia Beach won a $15 minimum wage and a step plan.
We've also been expanding our work in North Carolina to ensure that workers know about the benefits that have been available to them during the pandemic and to help advocate for safer working conditions.
Helping workers understand their workplace rights in this time of economic uncertainty
After the COVID-19 pandemic hit U.S. workplaces in spring 2020, UEREF joined forces with the Democratic Socialists of America to create the Emergency Workplace Organizing Committee (EWOC). Over the past several years, UEREF has worked with EWOC to create curriculum to help workers understand their rights. In the current economic environment, workers are well-positioned to demand more from their bosses, and EWOC is continuing to help workers make the most of this moment.
UEREF would like to thank the following organizations for their support of our work:
Cypress Fund
Economic Policy Institute and the Economic Analysis and Research Network
Ford Foundation
Jobs with Justice
LIFT Fund - Racial and Economic Justice Program
Movement Alliance Project
The Preston-Werner Foundation
Southern Vision Alliance
Tides Foundation
Unifor Social Justice Fund
WhyNot Initiative
---
About the UE Research and Education Fund
The UE Research & Education Fund was founded in 1994, with 501c3 tax exempt status, to foster international solidarity. Early funding provided support for the workers centers in Mexico that were established by the Frente Auténtico del Trabajo (FAT), and it continues to support worker to worker exchanges, cultural projects, and other cross-border work. Since then, UEREF has expanded to sponsor projects fighting for human rights with economic justice here in the United States.
---
About UE
UE is the abbreviation for United Electrical, Radio and Machine Workers of America, a democratic national union representing some 35,000 workers in a wide variety of manufacturing, public sector and private service-sector jobs. UE is an independent union (not affiliated with the AFL-CIO) proud of its democratic structure and progressive policies.
In the last three decades, UE has expanded beyond our traditional industries to represent a diverse range of occupations. Indeed, we pride ourselves as being a "Union for Everyone," and we welcome any group of workers who want to join a militant, democratic union.